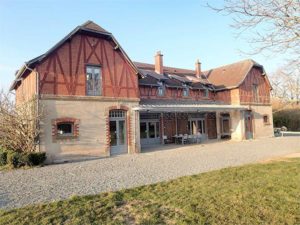 The Ettevaux Stables is a XIXth century building located at the heart of the Ettevaux estate. Charly fully and tastefully renovated this group gite mixing an equestrian theme with some more modern design, all environment-friendly. What makes the Ettevaux Stables so unique is the considerable woodwork, all crafted and installed by Charly, using the property's wood. He chose several varieties of trees, all from the park, according to his sustainable development philosophy. Moreover, the Stables are made to offer a stay with the lowest possible environmental impact: heavy insulation, pellet fuel heating system, energy saving electric system, water ressource management and wastewater recycling system and a guide on sustainable development good practices.
This 15-people gite is fully equipped to accommodate families or groups: dishwasher, washing machine, fridge, freezer, oven, microwave, kettle, coffee machine, and all essential dishes.
In addition to central heating, you will enjoy the warmth of the wood-burner, during winter evenings.
This accomodation also allows for seminars, contact us if you want more information about the renting of the seminar room.